P&O Cruises drinks menus with prices (2019): Is the drinks package worth it?
This post may contain affiliate links. This means that if you click a link and then buy something, you won't pay any more, but I will get a small commission to help to keep this blog going.
If you like to enjoy a drink on holiday, it's a good idea to find out what drinks are available and how much they will cost before you embark, and preferably, before you book.
How much are drinks on P&O Cruises ships?
The great news for anyone sailing with P&O Cruises is that P&O drinks prices are similar to what you'd pay in your local pub back at home. And everything is priced in pounds sterling, so it's easy to know how much you're spending. The photos of the P&O drinks menus in this post were taken on board Britannia in June 2019.
Each ship will have many different bars and restaurants on board, and each venue will have different drinks available. The pub, for example, has lots of different beers but a smaller cocktail menu, whereas the cocktail bars have lots of cocktails and a smaller choice of beers.
The following menu is the standard P&O drinks menu and wine list which you'll find in several places on board P&O Cruises' ships, such as the poolside bars and the buffet restaurant. As you can see, the bar prices are quite reasonable.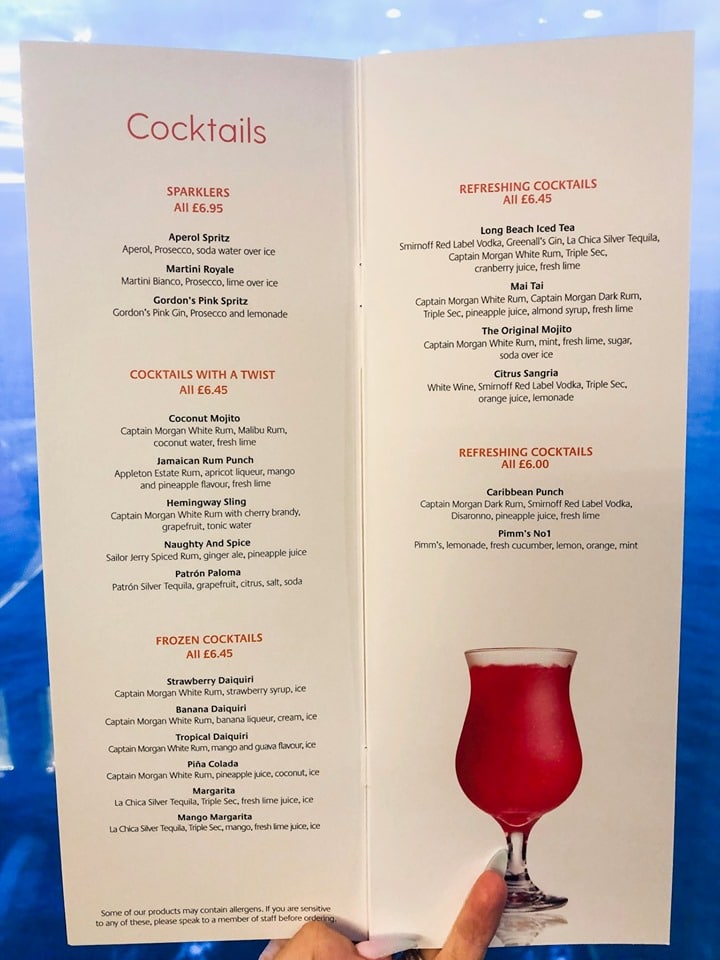 P&O Cruises serve kosher and vegan wines. You can ask on board for more information.
In bars, lounges and nightclubs such as the Live Lounge or the Crows Nest, you'll find a wider choice of drinks, yet the bar prices remain consistent. This is where you'll find the largest P&O Cruises cocktail menu. Here are some photos of this drinks menu and wine list:
Each ship in the P&O Cruises fleet has a traditional British pub, whether it's The Rising Sun on Arcadia, Champions Bar on Aurora, The Yacht & Compass on Oceana, The Exchange on Ventura or Brodies on Azura and Britannia. Each pub has its own unique character and charm, but all offer an extensive drinks menu and wine list. Below are photos of the drinks menus from Brodies on board Britannia:
Room service drinks list
If you'd like to enjoy a drink in your room or perhaps on your balcony, then the following menu lists the drinks that are available to order via room service:
Mini bar drinks
Each cabin also has a mini bar which is replenished daily. The drinks menu and price list for the mini bar is as follows:
Can you bring your own alcohol on board P&O Cruises ships?
Yes! P&O Cruises is one of the few cruise lines to allow passengers to bring their own alcohol on board. Each adult can bring up to 1 litre of alcohol and unlimited soft drinks.
When we sailed on Britannia I took a bottle of gin and my husband took a bottle of rum and we also took several large bottles of lemonade. We were able to buy more lemonade in port and bring it on to the ship. We called our stateroom attendant each evening to request a bucket of ice. After the first few evenings, the ice was waiting for us without having to ask.
The alcohol that you bring on board can only be consumed in your stateroom, but if you enjoy a drink whilst getting ready to go out in the evening, or perhaps a nightcap, then bringing your own drinks on board can be a great way to save money on your cruise. We saved over £400 by bringing our own drinks, compared to if we had bought the same spirits and mixers individually at bar prices. Plus, they were there in our fridge, which was so convenient.
How to stop glass bottles breaking in your suitcase
Worried about your bottle of wine of spirit getting smashed in your case? These inflatable bottle protectors are an ingenious idea. You could wrap your bottles in clothes, but why take the risk? Click here to buy.
Do P&O Cruises offer all-inclusive cruises?
In 2019, P&O Cruises introduced a drinks package which can turn your cruise from full-board to all-inclusive. P&O drinks packages are available on cruises of five nights or more and much be purchased for every day of the cruise.
The price of the P&O Cruises drinks package is £39.95 per person, per day. Each adult that purchases the drinks package, can claim a free children's drinks package worth £7.95 per person, per day.
The P&O Cruises ultimate drinks package includes:
beers
spirits (served in single measures only with a draught soda or long-life juice mixer)
cocktails
liqueurs
wines by the glass (up to £6.95 value)
bottled water (500ml only)
draught soft drinks
long-life juices
Costa coffees
teas
hot chocolates
non-alcoholic cocktails
Is the P&O Cruises drinks package worth it?
I see a lot of people online asking if the drinks package is worth it. To work that out, you'd need to think about how many drinks you are likely to drink each day. It's important to bear in mind, that on the majority of days of your cruise, you will be in port, and so you won't drink as much as you will on sea days.
P&O drinks packages in 2019 cost £39.95 per day. The price for two people on a 14-night cruise would be £1,119. If you would normally spend more than that amount on drinks, then yes, the package is worth it. If not, then you'd be better paying for your drinks individually.
It's important to remember that the drinks themselves are fairly cheap, particularly in comparison to some other cruise lines. To 'break even' on your drinks package, here's how many drink you'd need to drink…
9 pints of beer, or
7 large glasses of wine, or
7 cocktails
Now I might have had seven cocktails in a day sometimes, but not every day! And certainly not on the days that I was exploring a port and only returned to the ship at 6 pm. And seven glasses of wine? That's over two bottles worth. If I drank that much I probably wouldn't want to get back on it the next day.
Remember, drinks such as tea, coffee, water, cordial and milk are always available free of charge, as well as fruit juices at breakfast time. Plus, you can bring your own alcohol to drink in your cabin. (If you do that, make sure you pack glass bottles in something like this.)
So, unless you're planning on drinking a lot every single day of your cruise, you'll likely find that it makes more financial sense to purchase drinks individually.
Other drinks packages
In addition to the Ultimate Drinks package, P&O Cruises also offer other drinks packages. These are:
The non-alcoholic drinks package – £19.95pp per day
The hot drinks package – £10.95pp per day
The children's drinks package – £7.95pp per day
Wine packages – 6 bottles for £145 or 12 bottles for £270
What do you think?
Have you sailed with P&O Cruises? Did you buy the drinks package? Did you manage to break even? Let me know in the comments below. Or if you have any questions, ask away and I'll do my best to help.